JMango360 Mobile Acceleration Program
We will support participating customers with a substantial discount and provide guidance and tips & tricks to guarantee the success of the mobile app.
We want to invest in you!
This is why we offer you a €99 per month subscription instead of €249
The accelerator program aims to help smaller sized but ambitious webshops to optimize their mobile channel via a JMango360 sponsored app. We will create the fully integrated mobile shopping app with a substantial discount and provide guidance and tips & tricks to maximize the chance of the mobile app becoming a success.
What do we offer?
We charge a monthly fee of €99 per month instead of €249. Only when you reach a certain revenue goal your monthly fee will increase. This way you only pay more when you are successful. Sounds good right?

In addition to a lower monthly fee we also offer:
– Extensive App Marketing Support
– Showcase page on our website
– Promotion of your App through our Social channels
– The best support by our Customer Happiness team
Why do we offer this?
Based on our experience with our current customers we know for sure that we can make E-Commerce shops successful on mobile with their own App. With the accelerator program we want to enable young and ambitious webshops to benefit of positive mobile market developments. This way they can offer the best mobile experience to their ever increasing number of mobile visitors. This will result in more retention and revenue.
Why use an App for your Mobile traffic?
superior conversion rates
higher average order value
We've doubled our mobile revenue since launching the new shopping app. We've received a lot of reviews saying they're in love with the App and most of our users rate us with 5 stars. We want to be a 'makeup heaven' for our customers and I feel like we've achieved this with our App.
Maaike, owner Boozyshop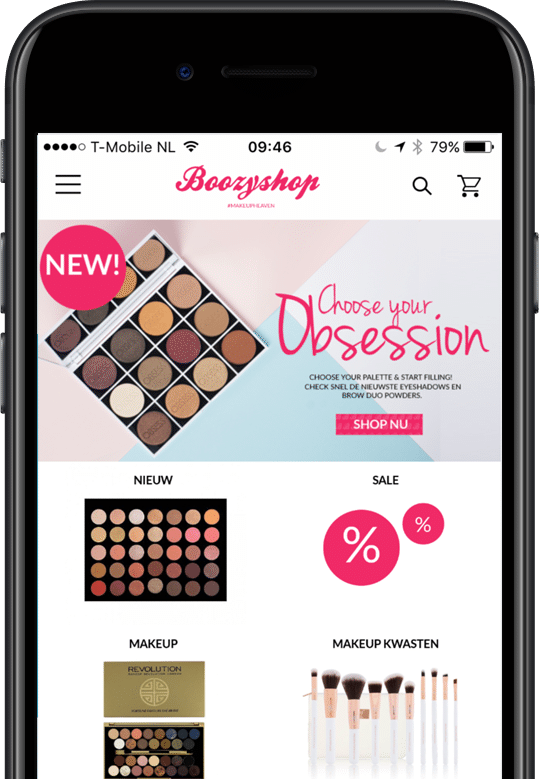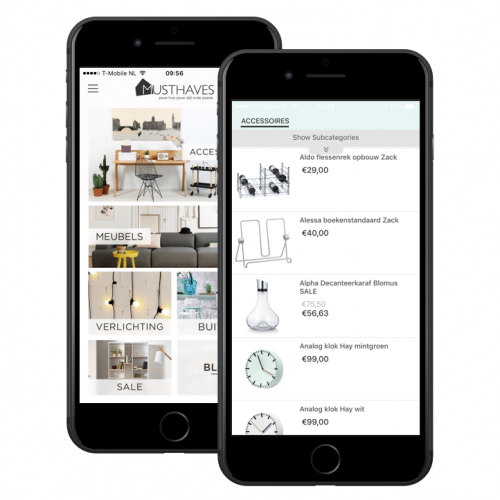 So what will your customers think of our shopping apps?
Our shopping apps receive an average rating of 4.8 out of 5 from their users. Why so high, you ask?
We've designed our platform to provide your customers with the best user experience. Our apps are native, meaning that product browsing and checkout methods run way faster than on a mobile responsive website. These are just a couple of reasons why native shopping apps have a better user experience.